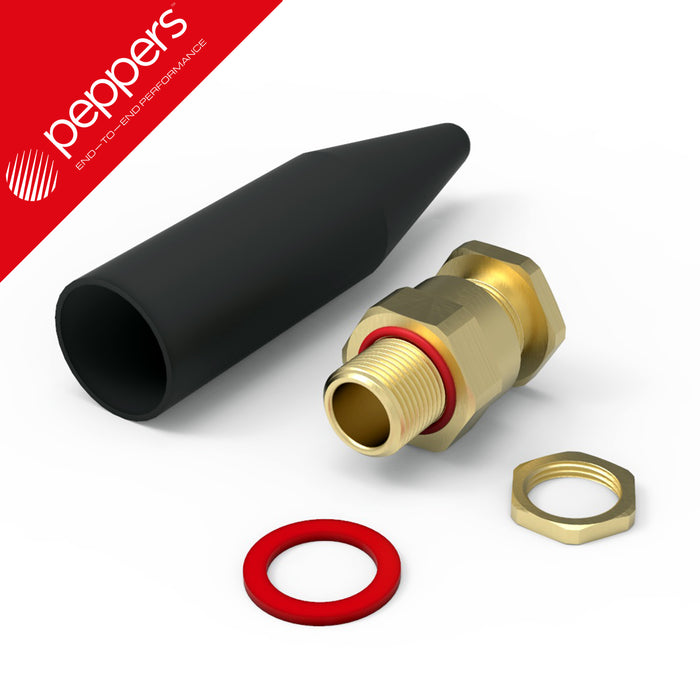 A2F Hazardous Area Gland Kit (Peppers)
Save

0

%
Save %
POA - Find Out More
Description
Peppers 'A" type glands are certified Flameproof Ex db, Increased Safety Ex eb, Restricted Breathing Ex nR and Dust Protected Ex ta. They are suitable for use in Zone 1 and 2 for Gas Groups IIA, IIB and IIC and additionally for use in Zones 20, 21 and 22 for Dust Groups IIIA, IIIB and IIIC. Also certified for Zone and Division installations for use with Marine Shipboard and Tray Cables under the NEC and CEC. Commonly referred to as "stuffing glands", they provide a controlled pull resistant environmental displacement seal on the cable outer sheath, minimising damage to cables that exhibit "cold flow" characteristics. The gland maintains IP66 & IP68 to 50 metres. It is supplied with an IP O-ring seal as standard on metric entry threads. Options are available for use with LSOH cables and extreme temperature applications. The "A" version is designed to accommodate unarmoured and armoured cables where sealing and retention is required only on the outer sheath.

Features & Benefits 
• For use with PVC/PVC PILC/PVC XPLE/PVC Cables flameproof gland reference A2LF
• Intended for use with non-armoured cables
• Approval certificate available on request
Kit Contents

A2 Gland, Locknut, Earth Tag, Integral O Ring Seal and Black PCP Shroud.


Directions for Use
Indoor / Outdoor Applications.

Material
Brass, Aluminium or Stainless Steel. 

Colour
Brass or Silver Metal.

Technical Data
| Type | A2F Hazardous Area |
| --- | --- |
| Thread Size | Metric |
| Gland Material | Brass |
| Ingress Protection | IP66, IP68 (50 metres – 7 days) Type 4X |
| Locknut Included | Yes |
| Hazardous Area Certification | ATEX, UKEX, IECEx + More see data sheet |
| Max. Operating Temp. | +90°C |
Size Chart
Gland Size

16

20S

20

25

32

40

50

63

75

Peppers Part No.

A2LBFCK1/16/M20
A2LBFCK1/20s/M20
A2LBFCK1/20/M20
A2LBFCK1/25/M25
A2LBFCK1/32/M32
A2LBFCK1/40/M40
A2LBFCK1/50/M50
A2LBFCK1/63/M63
A2LBFCK1/75/M75

No. per Pack

x1

x1

x1

x1

x1

x1

x1

x1

x1

Cable Range (mm)

4.0 - 8.4
7.2 - 11.7
9.4 - 14.0
13.5 - 20.0
19.5 - 26.3
23.0 - 32.2
33.1 - 44.1
46.7 - 56.0

58.0 - 68.0

Entry Thread - D (mm)

M16 x 1.5

M20 x 1.5

M20 x 1.5

M25 x 1.5

M32 x 1.5

M40 x 1.5

M50 x 1.5

M63 x 1.5

M75 x 1.5

Entry Thread - E (mm)

16

16

16

16

16

16

16

19

19

Under Armour ⌀ (mm)

N/A

N/A

N/A

N/A

N/A

N/A

N/A

N/A

N/A

Armour ⌀ (mm)

N/A

N/A

N/A

N/A

N/A

N/A

N/A

N/A

N/A

Approx. Length from Shoulder - F (mm)

N/A

N/A

N/A

N/A

N/A

N/A

N/A

N/A

N/A

Hexagon Across Flats - G (mm)

25.4
25.4

30.0

37.6

46.0

55.0




65.0

80.0




90.0

Hexagon Across Corners - H (mm)

2

8.0




28.0

33.0

41.4

50.6




60.5

71.5

88.0

99.0