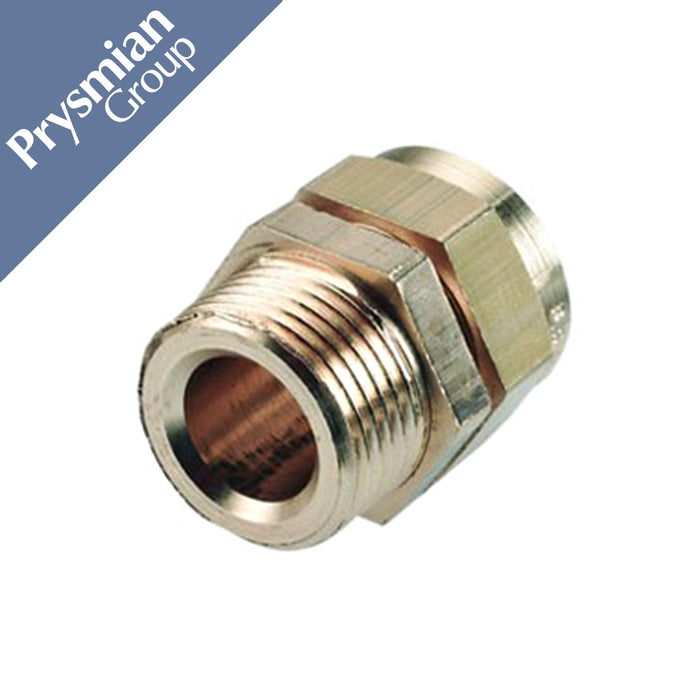 BW Industrial Gland Kit (Prysmian)
Save up to

0

%
Save %
Original price
£6.79
-
Original price
£65.53
Description
The Prysmian BICON BW Gland kit is an industrial indoor cable gland for rapid termination of steel wire armoured cables. Features: Indoor type for SWA cable.
• Brass indoor gland and accessories
• For galvanised-steel single-wire armour plastic or rubber sheathed cables
• For use in dry, dust free situations
• Provides mechanical cable retention and electrical continuity via armour locking mechanism.


Kit Contents
BW Gland, Brass Earth Tag, Brass Locknut, PVC Shroud.
(x2 per kit up to and including 25mm size).
Directions for Use
Indoor, dry applications.
Material
Brass.

Colour
Brass.

Technical Data
| Type | BW |
| --- | --- |
| Design Specification | BS 6121-1:2005 |
| Gland Material | Brass |
| Ingress Protection | Indoor Only |
| Finish | Brass |
| Cable Type | Steel Wire Armour |
| Armour Clamping | 2 Part |
| Service Temp. Range | -20°C to +90°C |
Size Chart
| Gland Size | 20S | 20 | 25 | 32 | 40 | 50 | 63 | 75 |
| --- | --- | --- | --- | --- | --- | --- | --- | --- |
| Prysmian Part No. | KA410-52 | KA410-53 | KA410-55 | KA410-56 | KA410-57 | KA410-59 | KA410-61 | KA410-63 |
| No. per Pack | x2 | x2 | x2 | x1 | x1 | x1 | x1 | x1 |
| Under Armour ⌀ - A (mm) | 11.6 | 13.9 | 19.9 | 26.2 | 32.1 | 44.0 | 55.9 | 67.9 |
| Entry Thread - D (mm) | M20 x 1.5 | M20 x 1.5 | M25 x 1.5 | M32 x 1.5 | M40 x 1.5 | M50 x 1.5 | M63 x 1.5 | M75 x 1.5 |
| Entry Thread - E (mm) | 10 | 10 | 10 | 10 | 15 | 15 | 15 | 15 |
| Armour ⌀ (mm) | 0.9 | 0.15 - 1.25 | 1.25/1.6 | 1.6/2.0 | 1.6/2.0 | 2.0/2.5 | 2.5 | 2.5 |
| Hexagon Across Flats - G (mm) | 22.0 | 27.0 | 32.9 | 42.4 | 50.0 | 70.1 | 80.0 | 98.8 |
| Hexagon Across Corners - H (mm) | 24.9 | 30.5 | 36.8 | 47.8 | 57.0 | 77.2 | 87.4 | 109.2 |