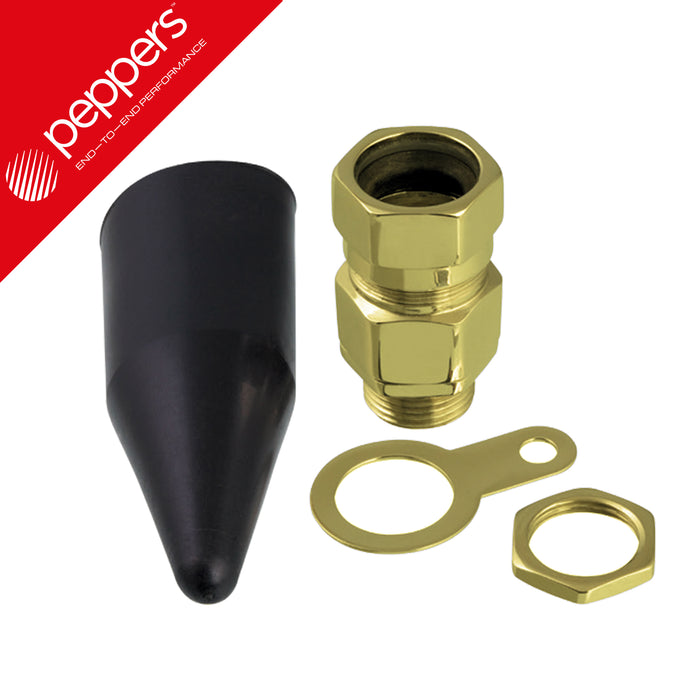 CW Industrial Gland Kit (Peppers)
Save

0

%
Save %
POA - Find Out More
Description
Peppers "C" type single compression glands provide a controlled IP and environmental seal on the outer sheath and a detachable armour specific clamping system for wire (W), braid/tape (X) armoured cables. The gland has been tested to IP66 and options are available for use with LSOH cables and extreme temperature applications.
Kit Contents

CW Gland, Brass Earth Tag, Brass Locknut, PVC Shroud.
(x2 per kit up to and including 25mm size).

Directions for Use
Indoor / Outdoor Applications.

Material
Brass.

Colour
Brass.

Technical Data
Type
CW
Design Specification

IEC 62444
EN 62444
BS 6121

Gland Material
Brass

Ingress Protection
IP 66
Finish
Brass
Seal Material
Neoprene or Silicone
Cable Type
Steel Wire Armour
Armour Clamping
3 Part (with Lock Nut)
Sealing Technique
Compression Type
Sealing Area
Outer Sheath
Size Chart
| Gland Size | 16 | 20S | 20 | 25 | 32 | 40 | 50 | 63 | 75 |
| --- | --- | --- | --- | --- | --- | --- | --- | --- | --- |
| Peppers Part No. | C1/W/B/16/20 | C1/W/B/20S/20 | C1/W/B/20/20 | C1/W/B/25/20 | C1/W/B/32/20 | C1/W/B/42/20 | C1/W/B/50/20 | C1/W/B/63/20 | C1/W/B/75/20 |
| No. per Pack | x2 | x2 | x2 | x2 | x1 | x1 | x1 | x1 | x1 |
| Cable Range (mm) | 8.4 - 13.5 | 11.5 - 16.0 | 15.5 - 21.1 | 20.3 - 27.4 | 26.7 - 34.0 | 33.0 - 40.6 | 45.7 - 53.2 | 58.4 - 65.8 | 71.1 - 78.0 |
| Entry Thread - D (mm) | M16 x 1.5 | M20 x 1.5 | M20 x 1.5 | M25 x 1.5 | M32 x 1.5 | M40 x 1.5 | M50 x 1.5 | M63 x 1.5 | M75 x 1.5 |
| Entry Thread - E (mm) | 16 | 16 | 16 | 16 | 16 | 16 | 16 | 19 | 19 |
| Armour ⌀ (mm) | 0.9 | 0.15 - 1.25 | 0.15 - 1.25 | 1.25/1.6 | 1.6/2.0 | 1.6/2.0 | 2.0/2.5 | 2.0/2.5 | 2.5/3.0 |
| Approx. Length from Shoulder - F (mm) | 58.0 | 58.0 | 58.0 | 58.0 | 65.0 | 72.0 | 73.0 | 76.0 | 82.0 |
| Hexagon Across Flats - G (mm) | 24.0 | 24.0 | 30.0 | 37.6 | 46.0 | 55.0 | 65.0 | 80.0 | 90.0 |
| Hexagon Across Corners - H (mm) | 26.5 | 26.5 | 33.0 | 41.4 | 50.6 | 60.5 | 71.5 | 88.0 | 99.0 |