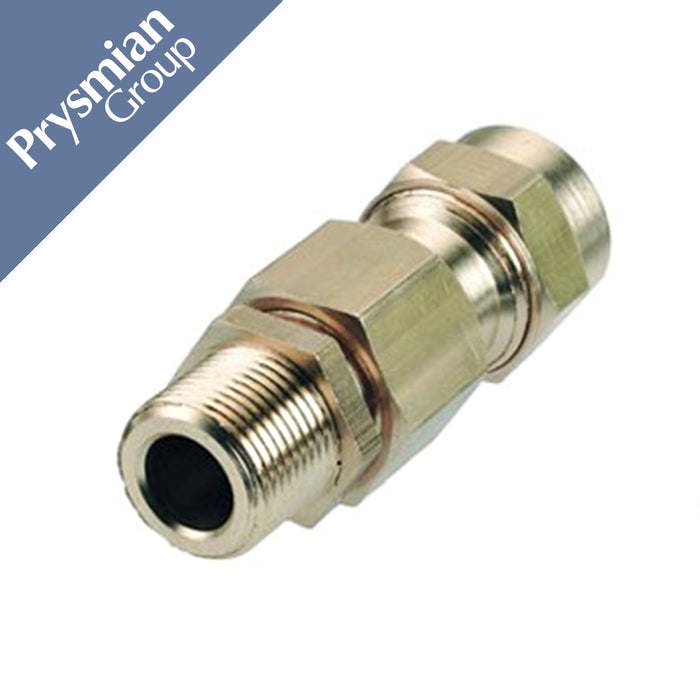 CW Industrial Gland Kit (Prysmian)
Save up to

0

%
Save %
Original price
£17.80
-
Original price
£129.61
Description
The Prysmian CW gland features a 3 part armour lock. Features and benefits:
• Indoor & outdoor type for SWA cable.
• Brass indoor & outdoor gland and accessories
• For galvanised-steel single-wire armour plastic or rubber sheathed cables
• Suitable for most climatic conditions, weatherproof and waterproof
• Three part amour lock with separate armour locking ring, ideal for checking electrical continuity for simple inspection and armour continuity.
Kit Contents

CW Gland, Brass Earth Tag, Brass Locknut, PVC Shroud.
(x2 per kit up to and including 25mm size).

Directions for Use
Indoor / Outdoor Applications.

Material
Brass or Aluminium

Colour
Brass or Silver Metal

Technical Data
| Type | CW |
| --- | --- |
| Design Specification | BS 6121 : Part I : 1989 |
| Gland Material | Brass |
| Ingress Protection | IP 66 |
| Finish | Plain Brass or Nickel Plated |
| Seal Material | Thermoplastic Elastomer |
| Cable Type | Steel Wire Armour |
| Armour Clamping | 3 Part Armour Lock |
| Sealing Technique | Compression Type |
| Sealing Area | Inner & Outer Sheath |
Size Chart
Gland Size
20S

20

25
32
40
50
63
75
Prysmian Part No.

KA419-52

KA419-53

KA419-55

KA419-56

KA419-57

KA419-59

KA419-61

KA419-63

No. per Pack
x2
x2
x2
x1
x1
x1
x1
x1
Cable Range (mm)

8.0 - 15.8

11.7 - 20.8

17.0 - 27.2

23.5 - 33.5

29.0 - 39.9

39.5 - 52.6

51.3 - 65.3

62.5 - 78.0

Entry Thread - D (mm)
M20 x 1.5
M20 x 1.5
M25 x 1.5
M32 x 1.5
M40 x 1.5
M50 x 1.5
M63 x 1.5
M75 x 1.5
Entry Thread - E (mm)
10
10
10
10
15
15
15
15
Under Armour ⌀ - A (mm)

11.6

13.9


19.9

26.2


32.1

40.0


55.9

67.9

Armour ⌀ (mm)
0.9


0.9/1.25

1.25/1.6

1.6/2.0

1.6/2.0

2.0/2.5

2.0

/2.

5

2.5/3.0

Hexagon Across Flats - G (mm)

25.7

30.5


37.6

47.3


56.4

70.1

80.0


98.8



Hexagon Across Corners - H (mm)

29.2



34.0

42.2


53.6

61.5


77.2

87.4


109.2