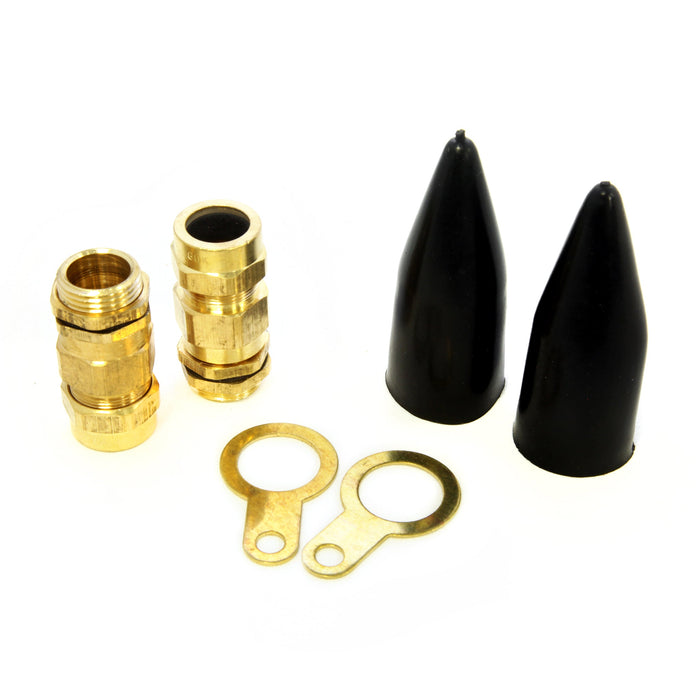 CW LSF Industrial Gland Kit
Save up to

0

%
Save %
Original price
£6.43
-
Original price
£68.00
Description
CW LSF brass indoor & outdoor cable glands are suitable with all types of Single Wire Armour (SWA) cable to seal the cables outer sheath. Additionally, the cable gland provides mechanical cable retention and electrical continuity via the armour wire termination. A seperate removable armour cone and clamping ring allows the cable to be easily removed if required. CGUK's CW range of industrial cable glands is designed and tested to BS6121: Part 1: 1989.

CW Glands can be rated to IP65, providing a suitable sealing washer or thread sealant is used at the gland interface.
Kit Contents
x2 Glands, x2 Locknuts, x2 Earth Tags & x2 LSF Shrouds up to and including 32mm, 40mm and upwards. Contains x1 of each item.
Directions for Use
Indoor / Outdoor Applications.

Material
Brass.

Colour
Brass.

Technical Data
Type

CW

Design Specification

BS 6121 : Part I

Gland Material

Brass

Ingress Protection

IP 65

Finish

Plain Brass or Nickel Plated

Seal Material

Thermoplastic Elastomer

Cable Type

Steel Wire Armour

Armour Clamping

3 Part Armour Lock

Sealing Technique

Compression Type

Sealing Area

Outer Sheath

Operating Temp.

-40 - 8

0°C
Size Chart
Gland Size
20S
20
25
32
40
50
63
75
No. per Pack
x2
x2
x2
x2
x1
x1
x1
x1
Cable Range (mm)
8.0 - 15.8
11.7 - 20.8
17.0 - 27.2
23.5 - 33.5
29.0 - 39.9
39.5 - 52.6
51.3 - 65.3
62.5 - 78.0
Entry Thread - D (mm)
M20 x 1.5
M20 x 1.5
M25 x 1.5
M32 x 1.5
M40 x 1.5
M50 x 1.5
M63 x 1.5
M75 x 1.5
Entry Thread - E (mm)
15
15
15
15
15
15
15
15
Under Armour ⌀ - A (mm)
11.6
13.9
19.9
26.2
32.1
44.0
55.9
67.9
Armour ⌀ (mm)
0.9
0.9/1.25
1.25/1.6
1.6/2.0
1.6/2.0
2.0/2.5
2.0/2.5
2.5/3.0
Approx. Length from
Shoulder - F (mm)
46
46

51

56

59

64

67

76

Hexagon Across Flats - G (mm)

25.7

30.5


37.6

47.3

56.4

70.1
80.0
98.8
Hexagon Across Corners - H (mm)

29.2

34.0

42.2
53.6
61.5

77.2
87.4
109.2