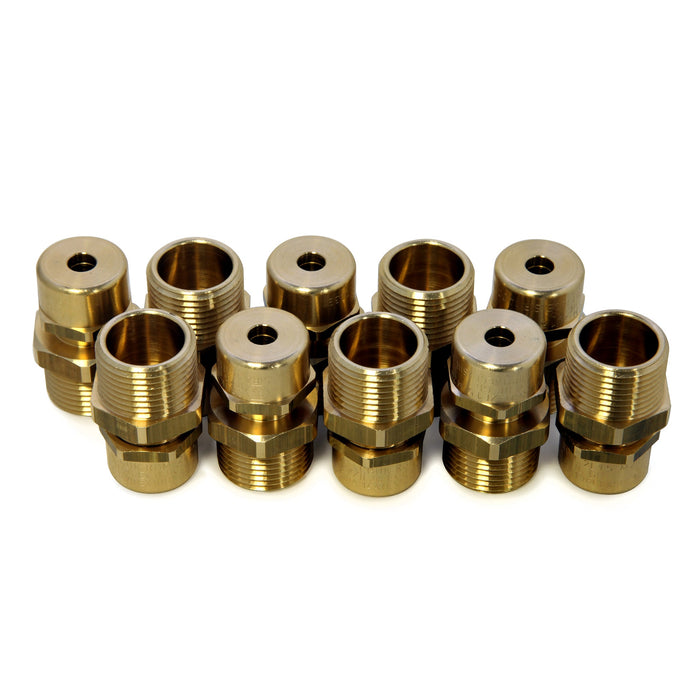 MICC RGM Cable Glands - Heavy Duty (ATEX, UKEX)
Save up to

0

%
Save %
Original price
£33.00
-
Original price
£105.96
Description
CGUK's inhouse manufactured MICC RGM Cable Glands are ATEX & IECEx approved for use in both hazardous and standard working environments. The glands are designed to be used in conjunction with seal kits, some gland sizes are dependent on whether Plain seal (RPS) or earth tail seal (RPSL) are used. These ring type glands are approved for type "d" Flameproof Protection, zones 1 & 2 and gas group IIC and are EPL Gb (20mm glands) the larger glands i.e. 25mm and above have their own certification.

Applications
General Lighting, Fire Alarm Systems, Fire Pumps, Emergency Lighting Systems, Exhaust Fume Extraction, Security Cameras, Emergency Start/Stop Controls, Public Address Systems, Fire Telephones, Elevator Motor Supply, Sprinkler Systems, and many more….

Kit Contents
20mm Glands - Packs of x10.
25/32/40mm Glands - Packs of x2.

Directions for Use
Indoor / Outdoor Applications.

Material
Brass

Colour
Brass

Technical Data
Type

MICC RGM Heavy Duty Glands

Design Specification

20mm Glands - : II 2G Ex d IIC Gb,  Sira 14ATEX1091, IECEx SIR14.0039 25mm Glands - : II 2G 1D Ex db IIC Gb and Ex ta IIIC, Sira 02ATEX1305X, IECEx SIR19.0051X, UKCA CSAE 21UKEX1070X

Thread Size

Metric

Ingress Protection

IP 54

Gland Material

Brass

Max. Operating Temp.
+80°C

Min

.

 Operating Temp.

-20°C
Hazardous Area Certification
Zones 1 & 2


Gas Group IIC

Test Standards
BS EN 600702-2:2002
Size Chart
Product
Ref.
No. per Pack
Gland Size
Entry Thread - D (mm)
Length (mm)
Cap Diameter  (mm)
2H1.5
x10

M20

M20 x 1.5

10.0

18.5
2H2.5

x10




M20

M20 x 1.5

10.0

18.5
2H4

x10

M20

M20 x 1.5

10.0

18.5
2H4

x2




M25

M25 x 1.5

10.0

24.0

2H6

x10

M20

M20 x 1.5

10.0

18.5
2H6

x2

M25

M25 x 1.5

10.0

24.0
2H10

x2

M25

M25 x 1.5

10.0

24.0

2H10
x2

M32

M32 x 1.5

10.0

27.0
3H1.5
x10
M20
M20 x 1.5
10.0
18.5
3H2.5
x10
M20
M20 x 1.5
10.0
18.5
3H2.5
x2
M25
M25 x 1.5
10.0
24.0
3H4
x10
M20
M20 x 1.5
10.0

18.5
3H4
x2
M25
M25 x 1.5
10.0

24.0
3H6
x2
M25
M25 x 1.5
10.0
24.0
3H10
x2
M25
M25 x 1.5
10.0
24.0
3H10
x2
M32
M32 x 1.5 
10.0

27.0
4H1.5
x10
M20
M20 x 1.5 
10.0

18.5
4H2.5
x10
M20
M20 x 1.5
10.0
18.5
4H2.5
x2
M25
M25 x 1.5
10.0
24.0
4H4
x2
M25
M25 x 1.5
10.0
24.0
4H6
x2
M25
M25 x 1.5 
10.0

24.0
4H6
x2
M32
M32 x 1.5
10.0
27.0
4H10
x2
M25
M25 x1.5
10.0
24.0
4H10
x2
M32
M32 x 1.5
10.0
27.0