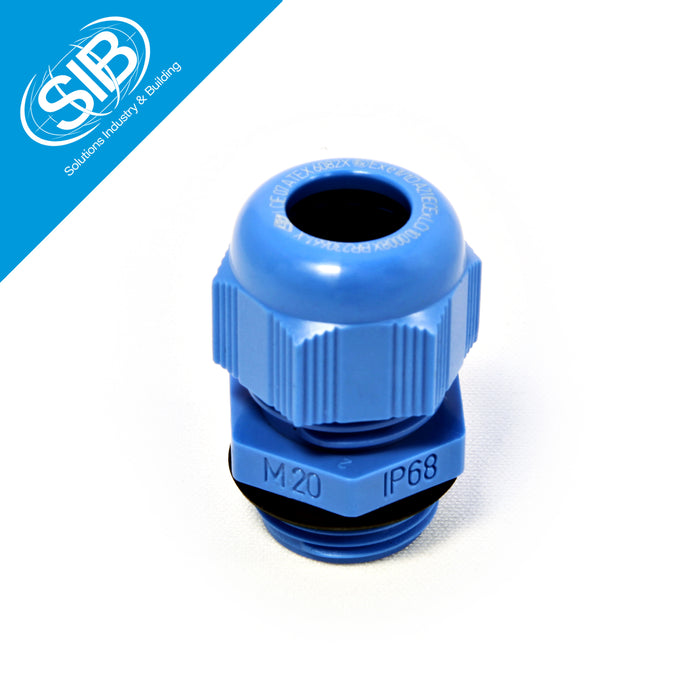 SIB TEC ATEX Polyamide Compression Gland (Metric) LONG THREAD
Save up to

0

%
Save %
Original price
£1.39
-
Original price
£8.41
Description
SIB-TEC ATEX LONG THREAD glands are approved to IP66 and IP68 as standard for normal industrial use and can be submerged up to a depth of 5 bar for 30mins respectively. SIB-TEC glands have been designed specifically for Ex e and Ex i applications (ECDEP compatible). Temperature range: M12 (-20°C +80°C),  M16-M63 (-35°C +95°C). Locknuts which incorporate a collar to avoid surface damage during installation are available at additional cost.

Kit Contents
1 x Gland (Locknut sold separately).

Directions for Use
Indoor / Outdoor Applications.

Material
Polyamide 6 V2 UL94 Zero Halogen.

Colour
Blue or Black.

Technical Data
Colour



ATEX Polyamide Dometop Gland


Design Specification

Ex protection type (EN 50019/IEC 60079-7 and EN 50020/IEC 60079-11)

Thread



Metric


IP Index



IP66 & 68 (EN 60529/IEC 60529)

Material




Polyamide 66, Polyamide 6 (UL-94-V2)

Finish

Plastic

Seal Material

Neoprene

Sealing Technique

Compression

Cable Type

Unarmoured

Sealing Area

Outer Sheath

Max. Operating Temp.




M12: +80°C
M16 - M63: +95°C

Min. Operating Temp.

M12: -20°C
M16 - M63: -35°C
Size Chart
| Gland Size | M12 | M16 | M16 | M20 | M20 | M25 | M25 | M32 | M40 | M50 | M63 |
| --- | --- | --- | --- | --- | --- | --- | --- | --- | --- | --- | --- |
| No. per Pack | x1 | x1 | x1 | x1 | x1 | x1 | x1 | x1 | x1 | x1 | x1 |
| Cable Range (mm) | 4.0 - 6.5 | 5.0 - 8.0 | 5.0 - 10.0 | 7.0 - 12.0 | 10.0 - 14.0 | 10.0 - 14.0 | 12.0 - 18.0 | 16.0 - 25.0 | 22.0 - 32.0 | 28.0 - 38.5 | 28.0 - 38.5 |
| Entry Thread (mm) | M12 x 1.5 | M16 x 1.5 | M16 x 1.5 | M20 x 1.5 | M20 x 1.5 | M25 x 1.5 | M25 x 1.5 | M32 x1.5 | M40 x1.5 | M50 x1.5 | M63x1.5 |
| Thread Length  (mm) | 15 | 15 | 15 | 15 | 15 | 15 | 15 | 15 | 16 | 16 | 16 |
| External ⌀ (mm) | 15 | 19 | 22 | 24 | 27 | 27 | 33 | 42 | 53 | 60 | 70 |
| Length (mm) | 32 | 37 | 39 | 40 | 43 | 45 | 49 | 52 | 62 | 67 | 68 |
| SIB TEC Part No. (Blue) | F7431200E | F7431650E | F7431600E | F7432050E | F7432000E | F7432550E | F7432500E | F7433200E | F7434000E | F7435000E | F7436300E |
| SIB TEC Part No. (Black) | F8031200E | F8031650E | F8031600E | F8032050E | F8032000E | F8032550E | F8032500E | F8033200E | F8034000E | F8035000E | F8036300E |