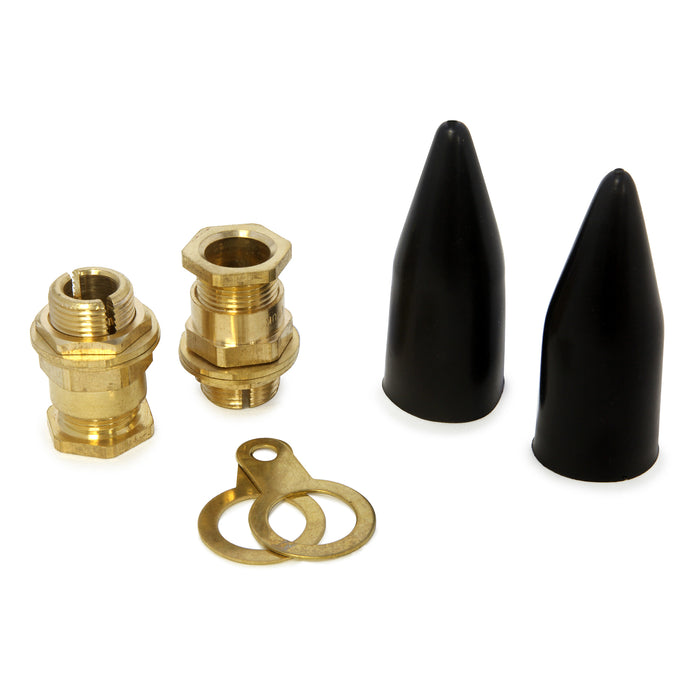 XT Industrial Gland Kit
Save up to

0

%
Save %
Original price
£3.88
-
Original price
£25.01
Description
XT Brass indoor and outdoor cable glands are suitable with all types of screened flexible wiring braid / wire braid armour cables. This gland provides mechanical cable retention and electrical continuity. The XT range of industrial cable glands is designed and tested to BS6121: Part 1: and is rated to IP66.

Kit Contents
x2 Glands, x2 Locknuts, x2 Earth Tags & x2 Shrouds up to and including 32mm, 40mm and upwards. Contains x1 of each item.
Directions for Use
Indoor / Outdoor Applications.

Material
Brass.

Colour
Brass.

Technical Data
| Type | XT |
| --- | --- |
| Design Specification | BS 6121 : Part I |
| Gland Material | Brass |
| Ingress Protection | IP 66 |
| Finish | Brass |
| Seal Material | Thermoplastic Elastomer |
| Cable Type | Unarmoured |
| Sealing Technique | Displacement Type |
| Sealing Area | Outer Sheath |
Size Chart
| Gland Size | 20S | 20 | 25 | 32 | 40 | 50 | 63 |
| --- | --- | --- | --- | --- | --- | --- | --- |
| No. per Pack | x2 | x2 | x2 | x2 | x1 | x1 | x1 |
| Cable Range (mm) | 8.0 - 11.5 | 11.0 - 13.5 | 13.0 - 16.5 | 19.0 - 25.5 | 25.0 - 32.0 | 36.5 - 43.0 | 47.0 - 55.0 |
| Entry Thread - D (mm) | M20 x 1.5 | M20 x 1.5 | M25 x 1.5 | M32 x 1.5 | M40 x 1.5 | M50 x 1.5 | M63 x 1.5 |
| Entry Thread - E (mm) | 15 | 15 | 15 | 15 | 15 | 15 | 15 |
| Under Armour ⌀ - A (mm) | N/A | N/A | N/A | N/A | N/A | N/A | N/A |
| Armour ⌀ (mm) | N/A | N/A | N/A | N/A | N/A | N/A | N/A |
| Approx. Length from Shoulder - F (mm) | N/A | N/A | N/A | N/A | N/A | N/A | N/A |
| Hexagon Across Flats - G (mm) | TBA | TBA | TBA | TBA | TBA | TBA | TBA |
| Hexagon Across Corners - H (mm) | N/A | N/A | N/A | N/A | N/A | N/A | N/A |