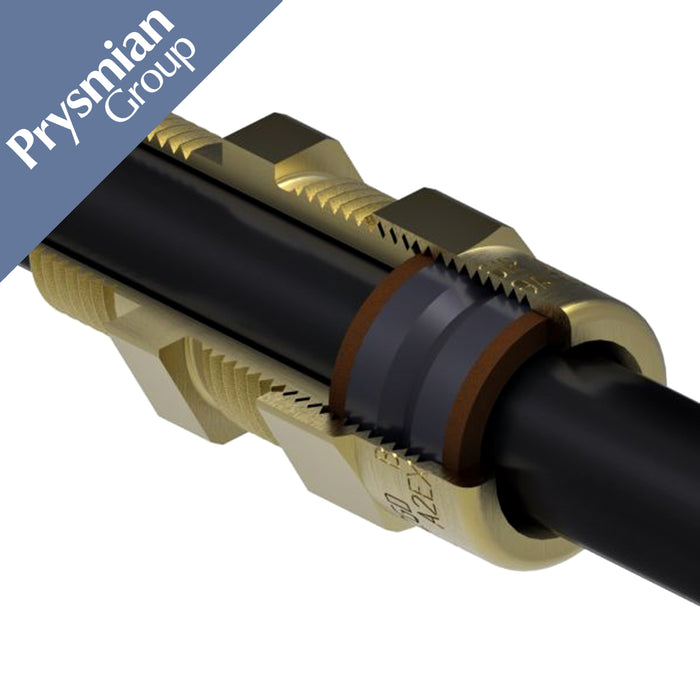 A2EX Cable Glands (Prysmian)
Save

0

%
Save %
POA - Find Out More
Description
Prysmian A2EX Cable Glands from the Prysmian 494AB range of hazardous area cable glands suitable for terminating circular unarmoured cables in Zone 1 and Zone 2 locations – Prysmian A2EX cable glands provide high performance in high temperatures in deluge and IP68 conditions.

Features & Benefits
A2EX brass indoor and outdoor hazardous area cable gland.
Suitable for circular unarmoured cables with extruded cable oversheath.
Cable gland fitted with silicone rubber low smoke, zero halogen seal.
IP66, IP68 (1 bar) and deluge proof (DTS01:1991) seal onto cable and to electrical enclosure with suitable sealing washer.
Weatherproof, waterproof and deluge proof cable gland.
Cable glands certified to II 2GD, Ex e II & Ex d IIC under ATEX directive 94/9/EC.
Service temperature range -50°C to +200°C.
UL classified according to IEC60079-0, 60079-1 and 60079-7 for hazardous area locations.
UL listed glands for use in Class 1, Zone 0, 1 and 2 hazardous area locations (Canada).
Nickel plated A2EX cable glands are available.
Applications
A2EX cable glands are suitable for use in:
Zones 0, 1 & 2 with Ex ia IIA, B & C Equipment
Zones 1 & 2 with Ex ib IIA, B & C Equipment
Zones 1 & 2 with Ex e II Equipment
Zone 2 with Ex nA II Equipment
Zones 21 & 22 with Ex tD II Equipment

Kit Contents

A2EX
Gland, Brass Earth Tag, Brass Locknut, Nylon Sealing Washer, PCP Shroud. (x2 per kit up to and including 25mm size).

Directions for Use
Indoor / Outdoor Applications.

Material
Brass, Aluminium or Stainless Steel.

Colour
Brass or Silver Metal.

Technical Data
| Type | A2EX |
| --- | --- |
| Design Specification | EN 60079, EN 60079-1, EN60079-7, EN61241-0, EN61241-1 |
| Gland Material | Brass |
| Ingress Protection | IP66 |
| Finish | Plain Brass or Nickel Plated |
| Seal Material | Thermoplastic Elastomer |
| Cable Type | Unarmoured |
| Sealing Technique | Displacement Type |
| Sealing Area | Outer Sheath |
| Max. Operating Temp. | 200°C |
| Min. Operating Temp. | -50°C |
Size Chart
Gland Size
16
20SS
20S
20
25
32
40
50
63
75S
75
Prysmian Part No.

494AB-51

494AB

-71

494AB

-52

494AB

-53

494AB

-55

494AB

-56

494AB

-57

494AB

-59

494AB

-61

494AB

-62

494AB

-63
No. per Pack
x2
x2
x2
x2
x2
x1
x1
x1
x1
x1
x1
Cable Range (mm)

3.5 - 8.5

3.5 - 8.5

8.0 - 11.5

8.0 - 16.0

11.5 - 21.0

18.5 - 27.5

24.0 - 34.0

31.0 - 41.0

40.0 - 52.5

52.5 - 58.0

54.5 - 65.5

Entry Thread - D (mm)
M16 x 1.5
M20 x 1.5
M20 x 1.5
M20 x 1.5
M25 x 1.5
M32 x 1.5
M40 x 1.5
M50 x 1.5
M63 x 1.5
M75 x 1.5
M75 x 1.5
Entry Thread - E (mm)
15
15
15
15
15
15
15
15
15
15
15
Under Armour ⌀ - A (mm)

N/A

N/A

N/A

N/A

N/A

N/A

N/A

N/A

N/A

N/A

N/A

Armour ⌀ (mm)

N/A

N/A

N/A

N/A

N/A

N/A

N/A

N/A

N/A

N/A

N/A

Approx. Length from Shoulder - F (mm)

36.0

36.0

36.0

34.0

44.0
38.0
46.0
44.0
61.0
46.0
66.0
Hexagon Across Flats - G (mm)

22.0

22.0

22.0

25.7

33.0


37.5

47.2

56.4

70.0
80.0

80.

0

Hexagon Across Corners - H (mm)

24.9

24.9

24.9


28.7

36.9


42.2

53.6

61.5


77.2

87.4

87.4